Shining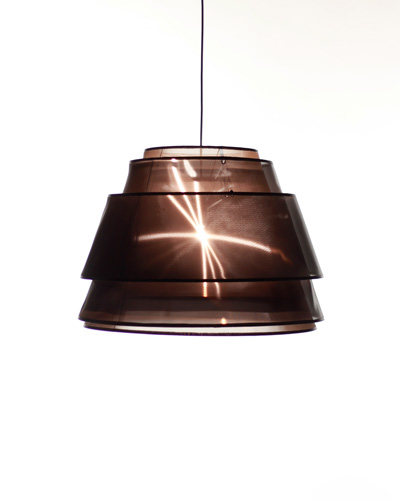 »Shining« is a pendant lamp with a multi-layer lampshade made from a special fabric.
The skin of the lampshades is cut from the plane fabric which has clearly directed threads. Since the threads of the fabric wrap spirally around the light source when the fabric forms the three-dimensional conical lampshade, the light effect on the finished lampshade »wraps« around the body as well.
The layers multiply the lighting effects of the fabric. Different heights of the lampshades and varying distances of the layers create mutual light and shade effects, varying contrast and transparency. The effect varies depending on the position of the viewer.
»Shining« was part of the exhibition »Gewebtes Licht« at the ZKM in Karlsruhe.
Further information: www.gewebtes-licht.de – year: 2011